Tap Socket Sets - A Must-Have for Every Workshop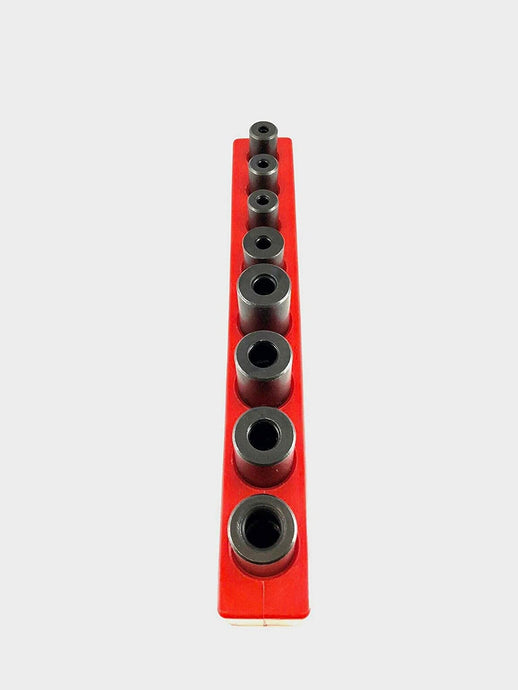 A tap socket set will let you cut new threads in bolt holes and bolt ends on repair jobs. Tap sockets are great for jobs on handrails with broken bolts, or garden furniture with missing hardware. You'll be able to fix them up just like new. Choose the right tap socket set and your threaded-holes will be retrofitted for instant repairs.
There's no better feeling in your workshop than successfully creating a new thread in metal — whether it's on the bolt-hole or the bolt itself. But without a tap press, you may have had to do what most people do and take it to a shop to do. You could also rent one — but who wants to spend a bunch of money on something they might only use once? Tap sockets offer a cheaper alternative for you to cut threads on bolts and bolt-holes right in your own garage or workshop.
So why do you need a tap socket set in your workshop at all? Well, it helps you save time and money on bolt/screw threads that you may end up having to create in your workshop. If you can turn a wrench, then you can make your own bolts and fasteners with a tap socket set. These specialized tools fit in any standard toolbox and are our go-to solution for cutting threads on nuts, bolts, and virtually anything you want to thread!
The Programmer
The first person is the CNC programmer. He is like the "playmaker". He will create the programs that the CNC machines are intended to execute. Since the programs are in the form of CNC codes fabricated like sentences, he should have mastered these codes because they work like a different language. The regular CNC machine can use up to 50 codes, so that's like learning 50 new words for the newbie.
Also, the programmer should have at least and engineering or machining degree. Remember that the CNC machine will only execute WHAT IT IS PROGRAMMED TO DO. If the program is wrong, the whole operation goes down the drain with it. Moreover he should also be flexible and have a fast turn-around because a CNC machine is often used to machine a huge selection of different work-pieces.
The Technician
The third person that will need is the CNC technician. Although this may still be the programmer, it is more convenient to always have a technical expert on-call because in the long run, you may have more than one CNC machine and you may need to prioritize over the other in case both gets crippled at the same time. Just like the programmer, the technician should also be flexible and articulate. CNC offers a lot of complexity when it is running right, how much more if it is behaving badly?
So, if you are having job openings for positions that need to be handling a CNC machine, ask the applicants first to do a demo for you and make sure that during the demo, they know what they're doing. An exam may also do wonders too. If they have no experience with any kind of CNC machine, it is advisable that you encourage them to take short courses on CNC.
Eighty-hour courses are available online and hey, it is better than nothing. Experts even encourage employers to hire CNC machinists who have finished AND PASSED the National Occupational Competency Testing Institute (NOCTI) assessment just so they could be sure that their CNC machines will go to good hands. After all, a CNC machine is still an asset.
The Operator
The second person that you need is the CNC operator. He will simply recheck the programs loaded to the machine and push the right buttons to get the work done. However, thinking that a CNC operator can have little or NO SKILL AT ALL is wrong. A CNC machine operator must have at least basic machining skills and he should have undergone some form of training to run a CNC machine.
These machines can produce very intricate motions, making it possible to make shapes that cannot be created on conventional machine tools. So, the operator should foresee this complexity and know how to cruise with it. The skills that an operator must have though, are lesser compared to the operators of conventional machine tools.